Having a hard time keeping track of Sam and Caitriona's upcoming appearances? Here's a round up of everything I could find.
Please let me know if I missed something!

Handy Calendar (Click to enlarge)

THURSDAY, MARCH 31
The cast and crew at an event hosted by Writers Bloc.
Sam on James Corden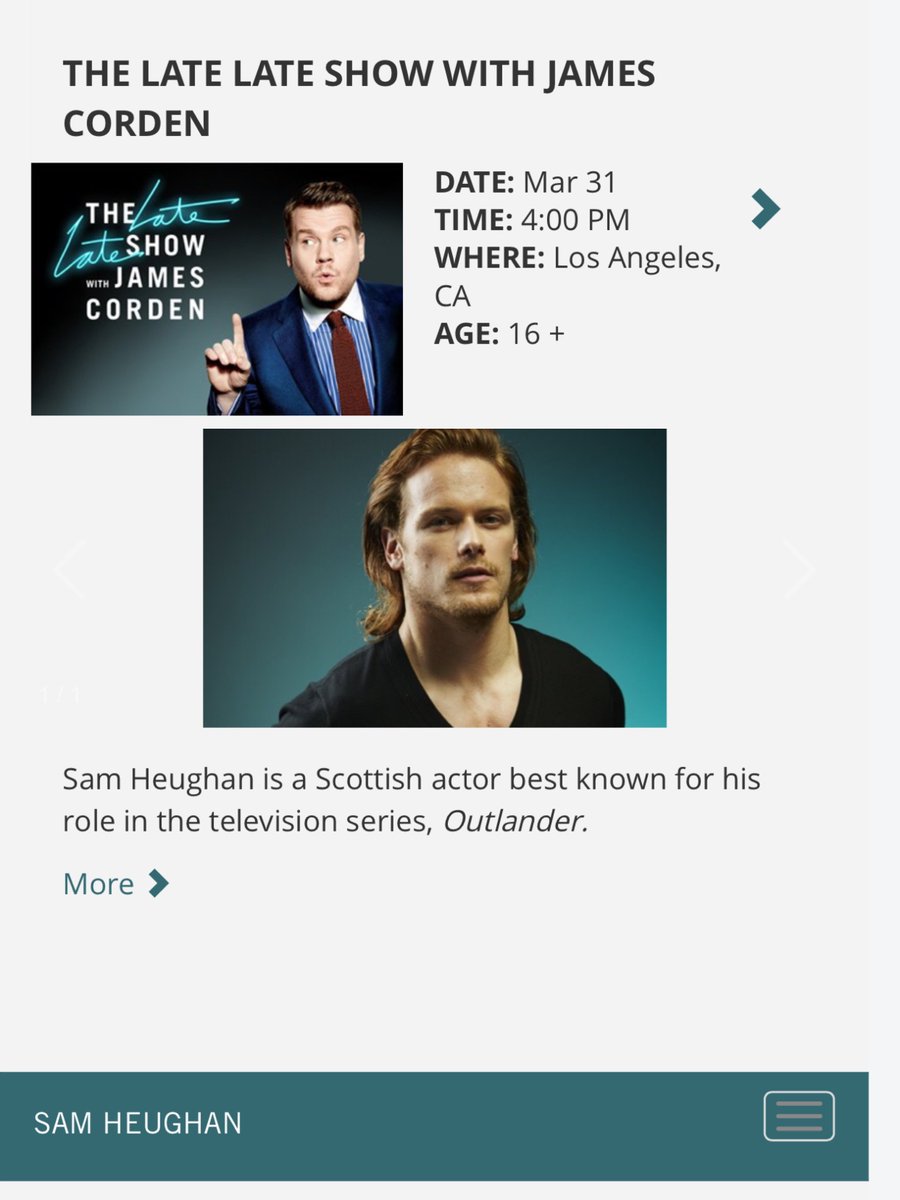 MONDAY, APRIL 4
6 PM EST/3 PM EST
Season Two Premiere/Live Stream in NYC

Live Stream Information  

TUESDAY, APRIL 05
7:30PM EST/4:30PM PST
From Scotland to Paris: A Behind the Scenes Journey with Outlander
Will be live-streamed here.  

The STARZ Original Series Outlander, based on Diana Gabaldon's international best-selling novels, spans romance, science fiction, history and adventure, and has captured the hearts and imaginations of television viewers around the world.
This season, Outlander moves from the Scottish Highlands to the French Court of Louis XV. You're invited to a behind-the-scenes event as cast and crew discuss the thrill of creating the magnificent world of 18th century Paris and Versailles, including the meticulous work of the costume and set departments.
In addition, Emmy Award-winning composer Bear McCreary will perform his new theme for this second-season adventure.
Panelists
• Ronald D. Moore, Showrunner, Writer and Executive Producer
• Maril Davis, Executive Producer
• Terry Dresbach, Costume Designer
• Jon Gary Steele, Production Designer
• Bear McCreary, Composer
• Caitriona Balfe, Claire Randall Fraser
• Sam Heughan, Jamie Fraser
• Tobias Menzies, Frank Randall/Jack Randall
CBS news correspondent Michelle Miller will moderate the discussion.
Complimentary attendance for Television Academy members and one guest only (non-transferable). Membership card and ID are necessary for admittance.
Seating is on a first-come, first-served basis with reservation; Admission is not guaranteed.

WEDNESDAY, APRIL 6
9-10 AM EST hour
Caitriona on the Today Show

THURSDAY, APRIL 7
2PM EST/11 AM PST
Caitriona Balfe and Sam Heughan on AOLBUILD
Join Caitriona Balfe and Sam Heughan as they discuss season 2 of their hit show "Outlander" on Starz, as well as their steamy Entertainment Weekly cover. @AOLBUILD

3:30-4:30PM EST/12:30-1:30PM PST
Sam and Caitriona at SAKS FIFTH AVENUE OUTLANDER WINDOWS LAUNCH
http://www.mr-mag.com/saks-fifth-avenue-to-launch-outlander-windows-on-april-7/



7:30PM EST/4:30PM PST
'Outlander: The Next Chapter' An ET Canada Special Presentation</b>


FRIDAY, APRIL 8
Sam on Kelly & Michael

SATURDAY, APRIL 9
2:00PM EST/11:00PM PST
Sam is Grand Marshall of New York Tartan Day Parade
Information here.